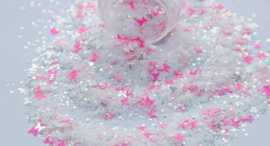 About Us
Established in the year 1980, Shree Product exclusively focuses on the manufacture, supply, and wholesale of nail polish and the related raw materials. A Kolkata-based company, we aim at being better than the best whenever it comes to nail polish.
Quality And Safety Concerns
With a combined experience of the company's founder – Shiv Kr. Tripathi and a robust team of skilled craftsman, we are committed to delivering consistent quality, now and forever. There's only one passion that drives us all at Shree Product – it's nail polish!
At Shree Product, we indulge in extensive R&D, production, colour study, and marketing strategies to achieve products of the highest grade. Some of the top talents in the cosmetic industry are part of our establishment exerting their focus on safety and quality quotient.
On A Mission To Excel Forever
Highly mission-driven, we apply the best formulae and material combinations to achieve rich colours, textures, evenness and durability. Creativity keeps us motivated. Taking inspiration from the world of fashion and people's preference, we present to you nail polishes that bespeak the passing fancy.
At Shree Product, we have always loved to inspire a life of beauty. Cultivating a warm relationship with our clients, we aim at meeting the needs of people at a global level, bringing the best to everyone we touch.
A Vision For Being A Priority, Not An Option
The wish to expand and grow as a leading cosmetics retailing group in the country and beyond defines our breadth of view. Our goal is to make the best of cosmetics handy for our customers. To meet this, we shall continue to magnify our core business and increase our retail outlets throughout the region.
We believe customers' happiness is our greatest victory. And we intend to become people's first choice by offering superior quality products that stand out from the crowd. Peerlessness is what we strive for.
Responsible Manufacturers, Competitive Pricing
All our products are available at competitive prices. You can purchase our nail polishes and the related raw materials within the range of Rs.36 – Rs.300. As a long-standing cosmetic company, we know the market demands fairness, validity and legality of pricing.
Of course, there's no cutting corners or burning holes in your pocket. Quality at Shree Product is paramount and we would never compromise on it to cut costs. Further, we are environmentally minded. Our operations exert minimum stress on the environment, thus ensuring responsible manufacturing of nail polish all the time.
Do you wish to speak to us? We invite you to contact us anytime.
Contact Us